Build a strong personal brand...build a better business
When most people think of branding, they think of their business brand. Yet, it's just as important for small business owners and nonprofit owners to build their personal brands.
This is even more true today with more interactions happening virtually, and social media blurring the lines between our personal and professional lives. 
In fact, "How to maximize your personal and professional brand," was the topic of conversation in Voya's Just Right Advantage™ program "Continuing the Conversation" podcast. Hosted by the popular podcast host, speaker, writer and influencer — Portia Scott — this episode featured a candid conversation with Kaplan Mobray, an acclaimed business speaker, coach and author of The 10Ks of Personal Branding.
The two discuss how Mobray's personal brand has shaped and continues to shape his career––including when Covid-19 forced his own pivot––and why business leaders need to embrace and celebrate their authentic selves.
Let's continue the conversation by looking at four things small business and nonprofit leaders need to know about building––and maintaining–– a powerful personal brand. 
Make sure your brand is authentic
The most important step for building a personal brand is understanding what makes you truly unique. Mobray recommends doing an audit of yourself––which he explains in detail in his book––to identify the aspects of your history and personality that help shape your brand. Just as importantly, take stock of the qualities you want to emphasize and improve. 
There are no right or wrong answers, but it needs to be authentic. In the long run, cultivating your personal brand is what allows you to do your best work — and lead effectively. "This willingness in leaders to be open and honest, even if it makes them vulnerable, is important because it builds trust — people can easily sense inauthenticity," wrote Liz Fosslien and Mollie West Duffy, co-authors of "No Hard Feelings: The Secret Power of Embracing Emotions at Work," in an article in the Harvard Business Review.1
Set the right tone for your business
Living your personal brand––and nurturing a work environment that encourages everyone to do the same––goes a long way in creating a strong culture within your organization.
"The more that you can do to allow a celebration for who you are and what you bring to your organization, the richer and more inclusive the culture will be," says Mobray.
Creating a supportive culture can have a myriad of benefits, including better employee engagement, productivity and creativity, as well as stronger recruitment and retention. 2
Balance opening up with oversharing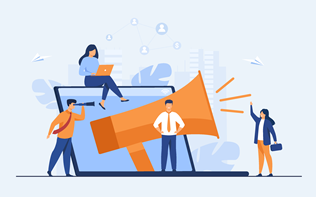 Over the last few years––and particularly since the start of the Covid-19 pandemic––businesses of all sizes have embraced the power of making personal connections. Still, it's important to recognize the fine line between making connections and what Fosslien and West Duffy call "emotional leakage," particularly when you're talking to customers or employees.
"People in charge have to think longer and harder than the rest of us about when to be transparent because they have more eyes on them," they write. "We argue that the way to find a balance between the two is to be selectively vulnerable — or open up to your team while still prioritizing their boundaries, as well as your own."
Be consistent, and consistently overdeliver
It's one thing to create a personal brand and another thing to live it. Once you've identified the essence of your personal brand, make sure it's consistent with your words and actions––in your personal interactions, your public persona and decisions that reflect on your business.
This is the foundation of world-class brands and equally applicable for cultivating a strong personal and business brand. "Make sure you communicate who you are, so you can create opportunities and set clear expectations," says Mobray. Better yet, look for opportunities to overdeliver. When brands fall short of expectations, people are often disproportionately disappointed. When brands exceed expectations, however, the result is often a disproportionate delight. 
Voya Financial's Just Right Advantage™ program offers support for diverse business owners and nonprofits
Supporting people in underrepresented communities is an important component of Voya Financial's Just Right Advantage™ program, which sponsors the podcast. The program is aimed at supporting greater retirement planning opportunities for minority, women, veteran, disability and LGBTQ-owned businesses — along with nonprofit organizations that serve them. 
Read more articles: